"An enormously appealing mockumentary blending gently satirical humor with deeper underpinnings, 'King of the Belgians' is a delightful, surprisingly respectful ribbing of the incongruity of monarchy, Belgium, and the Balkans." - Variety
Synopsis

KING OF THE BELGIANS is a road movie in which a dormant King gets lost in the Balkans and awakens to the real world.

King Nicolas III is a lonely soul who has the distinct feeling he's living the wrong life. He embarks on a state visit to Istanbul with a British filmmaker, Duncan Lloyd, who has been commissioned by the Palace to shoot a documentary intended to polish the monarch's rather dull image. The news breaks that Wallonia, Belgium's southern half, has declared its independence. The King, bursting with purpose, must return home at once to save his kingdom. And for once, he declares, he will write his own damn speech. As they rally to depart, a solar storm strikes the earth causing communications to collapse and airspace to shut down. No phones. No planes. To make matters worse, Turkish security coldly dismisses the King's suggestion they return home by road. But the King has no intention of waiting out this storm. Lloyd, sniffing an opportunity of historical proportions, hatches a dubious escape plan that involves flowery dresses and singing Bulgarians.

Thus begins their undercover odyssey across the Balkans, a journey that's loaded with wrong turns, startling encounters and moments of fleeting joy.

Statement

An Icelandic volcano erupted and an idea was born: let's drop a Belgian King in Istanbul, stir up a natural disaster, spark a political crisis and then launch him on a homeward overland journey, incognito, that features trip-ups, show-downs and moments of grace. Displacement as the essence of comedy, in other words.

The challenge was how to actually tell this tale... The Royal Palace hires Duncan Lloyd, a Brit, to upgrade the King's dull image. Lloyd's lens is the sole prism through which we experience these six extraordinary days in the life of a King. And what about Belgium, a complicated little country that specializes in surrealism and compromise? The ongoing political turmoil in our peanut kingdom and Europe's ever-deepening identity crisis were a key source of inspiration. But the political tangent of the film remains secondary to the inner transformation of the King as he savors his anonymity and begins to discover his genuine yearnings. To enhance authenticity and spontaneity we often invited the actors to improvise. And we filmed chronologically. The situations become increasingly outrageous but actually remain delightfully believable.

The result is KING OF THE BELGIANS, a road movie about a wayward monarch profoundly lost in the Balkans.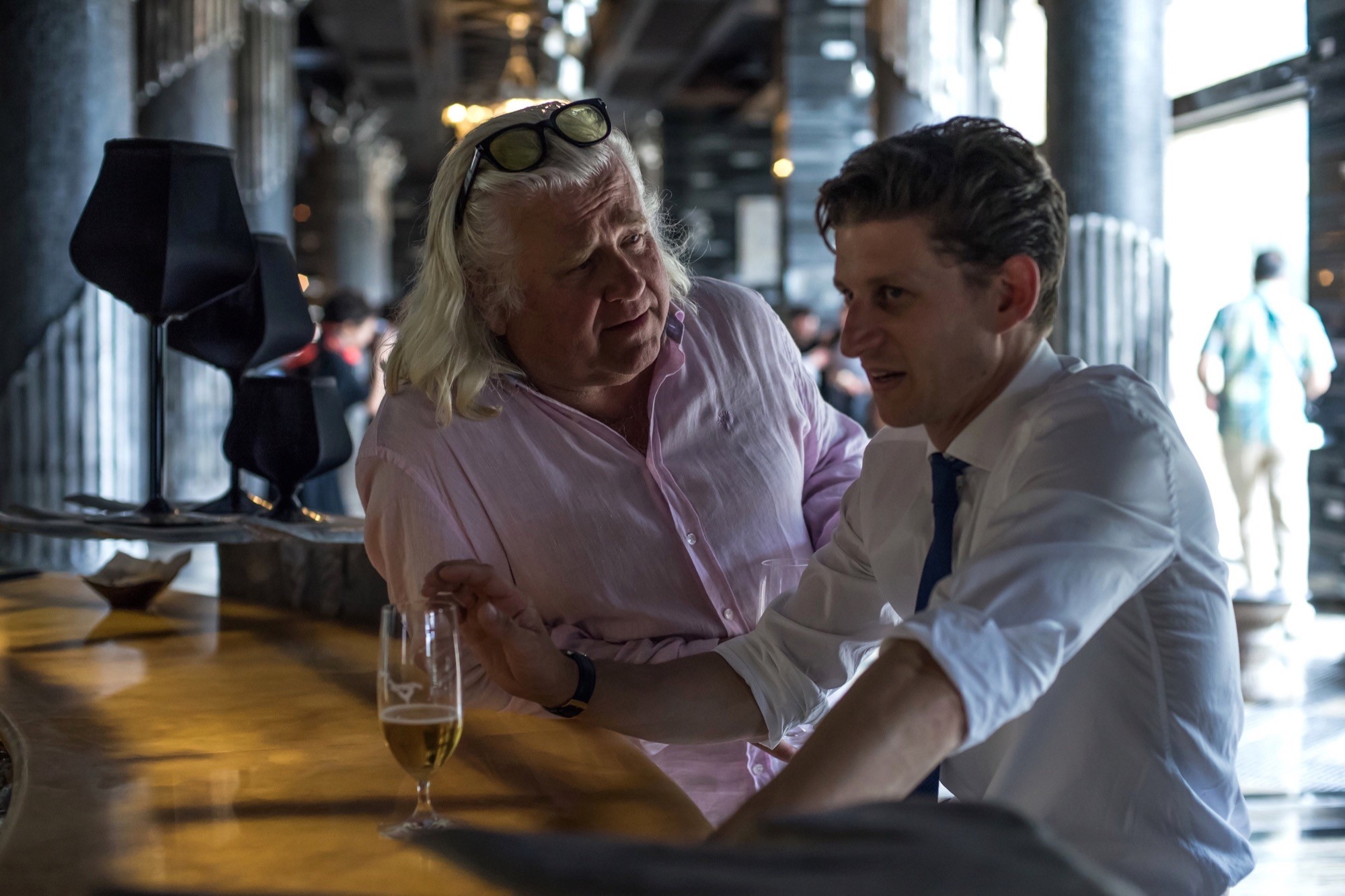 "It's quite a marvel how this satire has managed to hit the bull's-eye of the post-Brexitean mood so accurately with its AK-47 of cultural and political gags. King of the Belgians comes highly recommended as a result. " - Screen Anarchy
Cast & Crew
Cast

Nicolas III

Peter Van Den Begin

Ludovic Moreau

Bruno Georis

Louise Vancraeyenest

Lucie Debay

Carlos De Vos

Titus De Voogdt

Duncan Lloyd

Pieter Van Der Houwen

Ana

Nina Nikolina

Kerim Bulut

Valentin Ganev

Dragan

Goran Radaković

Queen Ursula

Nathalie Laroche

Crew

Written, Directed and Produced by

Peter Brosens & Jessica Woodworth

Director of Photography

Production Designer

Costumes

Make-up & Hair

Sound

First Assistant Director

Editor

Director of Sound

Colourist

Post-production Supervisor

Graphic Design

Line Producers

Nadejda Koseva & Svetla Tsotsorkova

Co-produced By

François Touwaide

(Entre Chien et Loup)

Arnold Heslenfeld, Frans van Gestel & Laurette Schillings

(Topkapi Films)

Mira Staleva & Stefan Kitanov

(Art Fest)
Directors
Jessica Woodworth & Peter Brosens
Jessica Woodworth & Peter Brosens both hail from documentary but are most widely acclaimed for their three feature films that they wrote, directed and co-produced together: Khadak (Winner of Venice's Lion of the Future 2006), Altiplano (Cannes Critics' Week 2009) and The Fifth Season (Venice Official Competition 2012). Their films appeared in hundreds of festivals and won dozens of distinguished awards. In 2006 Peter and Jessica received the prestigious Culture Award for Film of the Flemish Community of Belgium. King of the Belgians (Venice Official Selection 2016) is their fourth fiction feature. Their independent production company Bo Films is based in Ghent, Belgium. www.bofilms.be
Jessica Woodworth is an American-Belgian screenwriter and director. Jessica received degrees in literature from Princeton University (1993) and documentary filmmaking from Stanford University (1999). She was a stringer and line producer of documentaries in Paris, Hong Kong and Beijing in the nineties. While on a Fulbright scholarship in Morocco in 2000 she directed and shot the documentary The Virgin Diaries, a co-production between European and American broadcasters. Jessica was the president of the international jury at Ghent Film Festival in 2011 and a jury member at Zagreb's International Film Festival in 2015. She is specialized in the direction of actors.
Peter Brosens is a Belgian independent producer, director and writer. Between 1993 and 1999 Brosens directed and produced his internationally acclaimed 'Mongolia Trilogy' consisting of the award-winning creative documentaries City of the Steppes (Joris Ivens Award, Cinéma du Réel, Paris), State of Dogs (Grand Prix, Visions du Réel, Nyon) and Poets of Mongolia (Mongolian State Award). Peter (EAVE 1994) is the Belgian member of d.net, a European network of independent producers. He was a member of various juries, including IDFA.
Festivals
Orizzonti Competition

Venice Film Festival

2016

Official Selection

Film Fest Gent

2016

Official Selection World Cinema

Busan

2016

Official Selection

Filmfest Hamburg

2016

Selection Open Horizons

Thessaloniki

2016

Official Competition Seminci

Valladolid

2016

Official Selection

Antalya Film Festivali

2016

Official Selection

São Paulo IFF

20166

Cinema of the World section

Dubai

2016

Playtime Section

Les Arcs

2016

Official Competition

Marrakech

2016

Official Selection

Festival Internat du Film de Bruxelles

2016

Together Again Competition

Zagreb

2016

World Cinema Now

Palm Springs

2017

Official Selection

Minsk International Film Festival

2016

Panorama

Black Nights IFF

2017

Horizons Section

Tromso IFF

2017

Itinérances

Festival Cinéma d'Alès

2017

Annual European Union Film Festival

Chicago

2017

Fem Kontinenter

Göteborg Film Festival

2017

Winner Global Vision Award

Cinequest

2017

Winner KNF Award

Rotterdam IFFR

2017

Selección Oficial

Festival de Cine Europeo Puerto Rico

2017

World Tour Section

Cleveland IFF

2017

Main Slate Section

Sarasota Film Festival

2017

Chic Planète Section

Forum Des Images

2017

Closing film

Minneapolis St.Paul IFF

2017

Cup of Divination Section

Fajr IFF

2017

Feature Program

SEEfest17

2017

Journey Section

Espoo Cine IFF

2017

European Film Festival

South Africa

2017

Panorama Europe Festival

New York

2017
"Peter van der Begin gives his King a kind of simple natural allure that suggest monarchs can be human if you take them out of their palaces." - Screen International
News
Official Lux Prize Nomination

'O Rei dos Belgas' had 5 amazing screenings at the 40th Mostra Internacional de Cinema / São Paulo International Film Festival! Obrigado Brazil! #kingothebe

In competition at Valladolid!

Olé! The King is going to Spain! The film has been selected for the official competition of Semana Internacional de Cine de Valladolid - Seminci!

Greek premiere at Thessaloniki

King of the Belgians has been selected for the 57th Thessaloniki International Film Festival that will take place November 3 - 13, 2016!

Belgian premiere at Film Fest Gent

KING OF THE BELGIANS will have its Belgian premiere at Film Fest Gent this fall! Get your tickets now and join us on October 17th! #ffgent #kingofthebe

Busan International Film Festival

King of the Belgians has been selected for the World Cinema programme of Busan International Film Festival (6-15 October).

The King is travelling to Filmfest Hamburg! Ganz töll! Congrats to the entire cast & crew!

The King is going to Venice

King of the Belgians will have its world premiere at the 73rd Venice International Film Festival, that will run from August 31st to September 10th 2016. Keep an eye out for upcoming screening dates. #KINGOFTHEBE

Want to stay updated on the latest news?

Follow our King & his entourage on social media! Like follow & share through facebook.com/kingofthebe and twitter.com/kingofthebe #KINGOFTHEBE